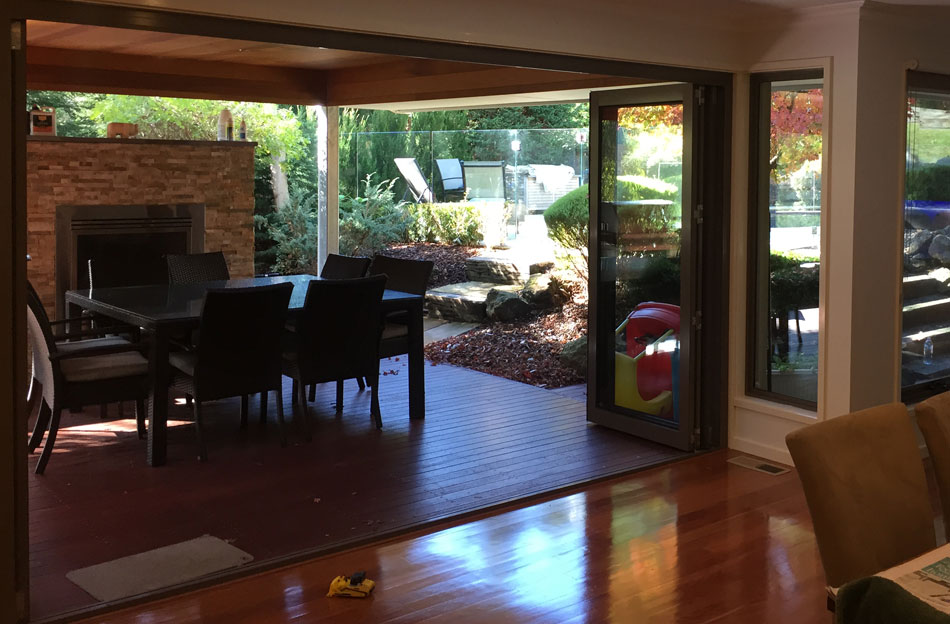 Here at MCG, we pride ourselves on our ability to create modern, attractive windows and doors that not only look amazing in your home or office, but stand the test of time. One of our most popular products is the commercial bifold doors, which allow you to switch between indoor and outdoor living in just a few seconds.
Whether you choose to incorporate this seamless product into your residential space or would prefer to use it for commercial applications, our team is here to help you have an incredible experience from start to finish. Contact us today on 1300 766 349 to organise your free quote.
Why choose our commercial bifold doors?
Here at MCG, we endeavour to combine innovation, functionality and unparalleled design into each and every one of our products. Our commercial bifold doors are no exception, with their incredibly floor to ceiling design allowing your room to be flooded with natural light throughout the day. This functional upgrade to the traditional door means you can transition your space from inside to outside living in mere seconds, enjoying the best of both worlds.
Each of our bifold doors is manufactured using hardware from Centor Architectural, meaning you will always experience the smoothest, most functional experience possible. All hardwear is neatly concealed to ensure a seamless look is maintained, while Weatherseal technology guarantees that all wind, rain and cold air stays outside.
The ultimate sliding door for your office space or household, get in touch with us today to get your free quote.
Offering a wide range of sliding windows and doors for your home or office
On top of our commercial bifold doors, we are proud to offer a wide range of products that add innovation and functionality to your living or working space. From our centre glazed commercial system to our awning, sashless or aluminium windows, our goal is to create products that are versatile, durable and brilliantly designed.
Get in touch today for a free quote
If you're interested in ordering commercial bifold doors for your home or office, contact our professional team today. We service the Mornington Peninsula and surrounding suburbs of Melbourne.